2009 Super Bowl Commercials – Etrade:babies – FanHouse.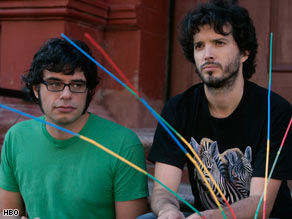 Even the most banal question is met with an amusing and thought-provoking response from Jemaine Clement and Bret McKenzie, the two quipsters behind "Flight of the Conchords."
via Hanging out with the wacky 'Flight of the Conchords' – CNN.com.
SF Signal: Bubblicious: The Coolest Stop-Motion Video You'll See Today.

Bubblicious from Rex The Dog on Vimeo.
Wiimote Accident: What a Wiimote to the TV Actually Looks Like.
Check out the Brains behind all the good SNL digital Shorts and some of the best written songs on the internet today.
The Lonely Island | TheLonelyIsland.com
Toyota Corolla: Ninja Kitty funny tv commercial | TvAdFad.
I got a chance to look over a bunch of these guys Video's and I have to say, they are pretty damn funny, if you have a youtube account, you should subscribe to their channel.  Go to the site, very well made and check out their videos.
Britanick Comedy – Two Guys Wasting Their Degrees