Just stumbled across this pretty incredible remake of smooth criminal.
Stjepan Hauser and Luka Sulic playing Smooth Criminal by Michael Jackson Arranged by Stjepan Hauser and Luka Sulic.
via YouTube – Sulic Hauser- Smooth Criminal.
AT-AT Boom Box.
via Powder Mountain Perspective on Vimeo.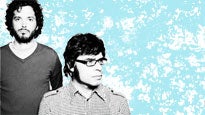 Best Comedy Duo since Tenacious D is headed to Nokia Theatre Dallas, come check em out..  Get your tickets now!!!
Flight of the Conchords tickets Nokia Theatre At Grand Prairie Grand Prairie, TX, Directions, seating chart. Official Ticketmaster site..
Songza lets you listen to any song or band. Search for it:
via Songza: The music search engine & internet jukebox. Listen. Now..
YouTube – Jorm Dances! Stolen SNL video!.
Check out the Brains behind all the good SNL digital Shorts and some of the best written songs on the internet today.
The Lonely Island | TheLonelyIsland.com
Goodbye, Productivity: MTV Music Site Posts Every Music Video Ever.
YouTube – AC/DC Rock N Roll Train – ASCII music video in Excel.